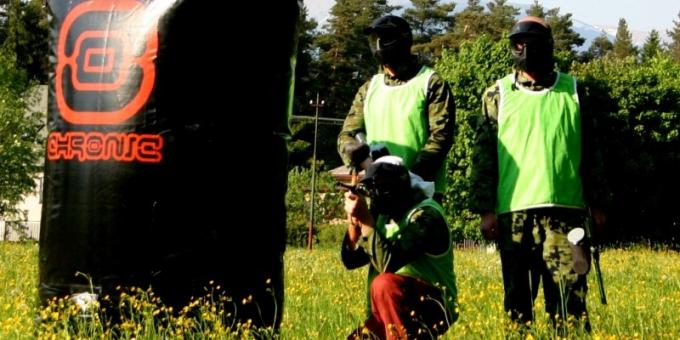 Paintball
Tags:
Teambuliding
Zimné
Letné
Outdoor
Paintball is a game full of adrenaline and adventure, that requies not only a good physical condition of players, but also the ability to make decisions quickly and correctly. Paintball is a game in not only about luck and skill, but also about teamwork of players.
The main thing is that – ** Paintball is a great fun for all. **
Prices – Paintball
| | |
| --- | --- |
| * Marker (gun) | 7 € / hr (each additional hour € 1.66) |
| * Bullet | 0,08 € / piece |
Prices for larger groups *
| | |
| --- | --- |
| * Rental of material max. 20 pcs | € 180 / day |
| * Bullet | 0,08 € / piece |
Inflatable playground for paintball
Inflatable paintball field allows you to play paintball in places without the most suitable natural conditions. Inflatable barriers and safety nets are included.
Price list about inflatable field is produced on request.
Corporate Events
Paintball enhances teamwork skills and teaches players to quickly make decisions in stressful situations. In paintball, it is important that you trust your teammates, while doing everything possible so they could rely on you too. That is why paintball has become a popular sport activity, especially for corporate events.
Private events
Paintball is also very popular among young people and is is commonly requested for private events. Primarily because it combines movement and adrenaline with the environment well known from action movies or video games, such as the popular Counter-Strike.
More teambuilding activities >>
Video