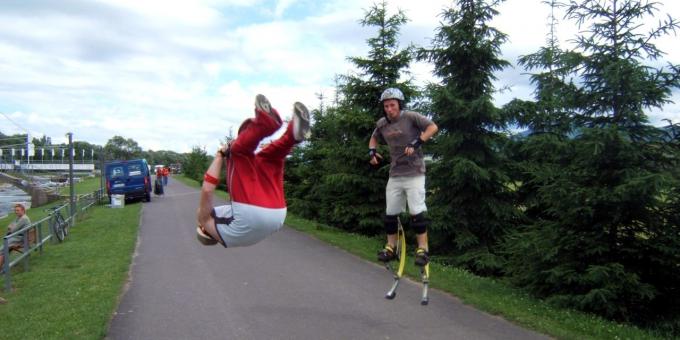 Jumping boots
Tags:
Teambuliding
Letné
Outdoor
On 7 miles boots you jump as Puss in Boots. Our experienced instructors will provide support and teach you basics of walking and jumping. You will see that jumping boots are addictive and you will not want to put them down. Learning only takes a few minutes for everybody. There is also a possibility to buy the jumping shoes from us.
Attraction is ideal for:
Corporate events
Private events
Teambuildig programs
Fun programs
Performances at sporting and cultural events
Sampling – promotions
Presentations on cultural and sports events
Corporate Events
We will provide you complete training walking and jumping. Your clients or employees will learn basics of walking and jumps, and experience a lot of fun.
Price list for 4 couples
| | |
| --- | --- |
| * Education + jumping | € 300 / hour (4 hrs.) |
Price list for 2 couples
| | |
| --- | --- |
| * Education + jumping | 200 € / hour (4 hrs.) |
Price does not include VAT and transport. The price includes the complete rental points (4 pairs of shoes), including guards and two instructors.
Promotion
Jumping shoes are very interesting. They have high communication value and effect wherever they appear attract attention.
Imagine jumpers who jump in costumes matched to your company colors, or as mascots. Another option are a nice jumping hostesses.
This combination is exactly what your clients take to stop. Often you will see how your clients will themselves take the jumpers promotional material of your company. From our experience we know that for such actions are often long talks.
Promotion price list
Price is determined by agreement of its amount depends on the number of jumpers and from time to time. You can prepare jumpers yourself, or we can do it for you.
Technical requirements:
Dry and not slippery surfaces
Walk, playground or park
Ideal are flats and less visited places
Appropriate footwear: the perfect skate shoes or other sport shoes.
Sandals and slippers are wholly inappropriate!